Screen shots
Main screen
The main screen of igotUViewer is the following.
If an i-gotU device is connected to PC, it will be detected automatically and will be displayed on the screen upper left.
The following screens is in the state where data was read from equipment.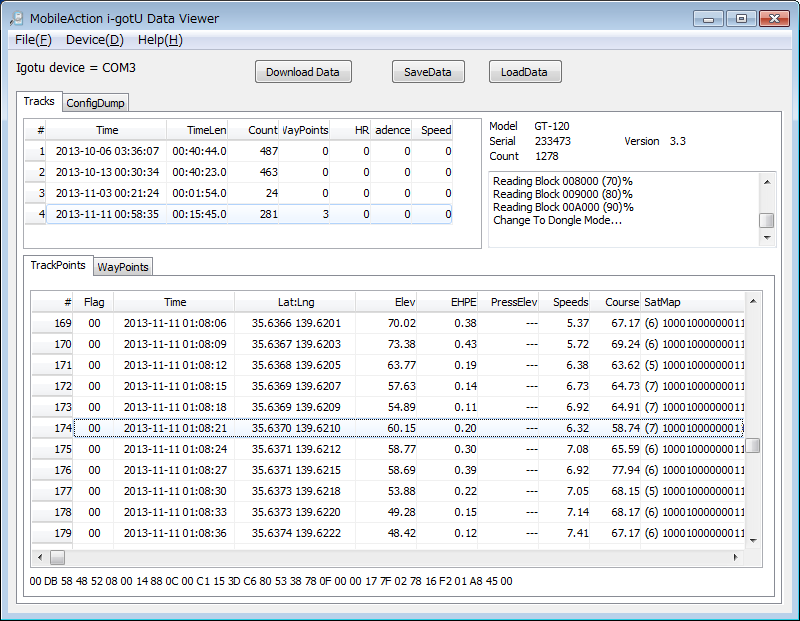 Reading of device data
In order to read the data in a device, where a device is connected, the "Download Data" button is pushed.
Preservation and reading to a file
With the "SaveData" button, the read data can be saved to a file.
The data saved by "SaveData" at the file can be read by "LoadData", and can display data.
Export to a GPX file
If "File"-"Save Track to GPX File..." is chosen where data is read, track data can be written out as a GPX file.
When reading of device data goes wrong
Rarely, reading of device data may go wrong.
In particular, in the case of GT-120, reading goes wrong and a device may not react.
The pilot lamp of GT-120 has gone out in this state.
When i-gotU will not react, once you remove a device from PC and you carry out it about 10-30 seconds, please connect with PC again, and check lighting of a pilot lamp.

| | | |
| --- | --- | --- |
| Download and Installation | English | |
---